VIP PACK
Enjoy your stay al Royal Garden Hotel
VIP PACK -Enjoy your stay!
Discover Royal Garden VIP PACK, the perfect solution for those who want to enrich their stay with some extra benefits!
Free Minibar: Soft Drinks & Snacks
Restaurant: 20% Off
Bar: 20% Off
Garage included
Room Service Breakfast included.
The VIP PACK can be purchased at the reception desk upon check-in, for € 20.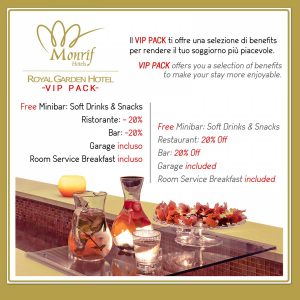 VIP PACK al Royal Garden Hotel VIP PACK al Royal Garden Hotel